Kiperline - Kiperline X1 Invisible Hearing Aid
Regular price
$179.99 USD
Regular price
Sale price
$179.99 USD
Unit price
per
Sale
Sold out
"My wife gets frustrated with me for asking over & over what she said, so I figured that I should get some aids. I can't afford insurance so I found these hearing aids. My only problem is that I really have tinnitus hearing issues with is the sound of crickets ringing in my ears constantly. It does not solve that problem, but it helps because I can turn the volume louder than the ringing to hear certain words better."
——Rocky
It's small, very small that people can't notice I am wearing it. It beats not wearing the behind year type, which I(and everyone around me) hate. If you have used hearing aid before, you know how important this is. It is loud enough. I am pleased.
——Keith Bendel
My husband got his hearing aids about three months ago. He had tried several other aids. These are the only ones that work! He loved them so much ordered two more pair for family and friend. Had made huge difference in their quality of life. The customer service is second to none. Cannot recommend that you try these too much. Would and did buy again!
——Lori Vaughn
Do you ...
Struggle to hear conversations in restaurants?
Wish you could hear your TV and music better?
Have a hard time hearing your friends and family?
Transform your life with one tiny hearing device that uses advanced technology to give you your sense of hearing back.
The Kiperline X1 ITC Hearing Aid is suitable for mild-to-severe hearing loss (hearing loss of 20 to 110 decibels).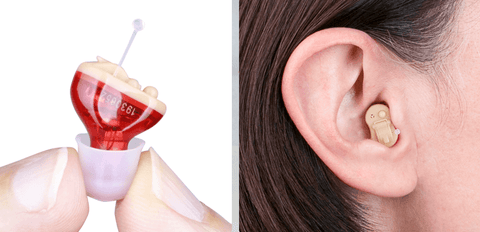 Each Kiperline X1 ITC hearing device:
Is very discrete and nearly invisible. If fits snugly in your ear canal and is almost impossible to see from the front.
Is suitable for mild-to-severe hearing loss. Don't let the size fool you. These hearing aids are very powerful. 
Is programmed with smart noise reduction and automatically isolates sounds such as speech, music and TV.
Is extremely easy to use & adjustable. Set up and ready to use in seconds. Adjusting the volume is also quick and easy.
Is tiny and fits comfortably in your ear. It's only 0.7 x 0.47 inches in size (1.8cm x 1.2cm) and you won't even know you're wearing it.
Is very cost effective. We often hear from our customers that our hearing devices can work just as well (and if not better) than expensive traditional hearing aids that can cost upwards of several thousands of dollars. 
Each Kiperline X1 comes with:
1 x Protective Carry Case;
1 x A10 Battery*;
1 x Cleaning Brush;
5 x Silicone Ear Domes (small, medium, large);
1 x Wax Guard;
1 x User Guide;
12 months repairs & replacement warranty;
30 day risk-free money back guarantee.
*A10 batteries are widely available in supermarkets and convenience stores.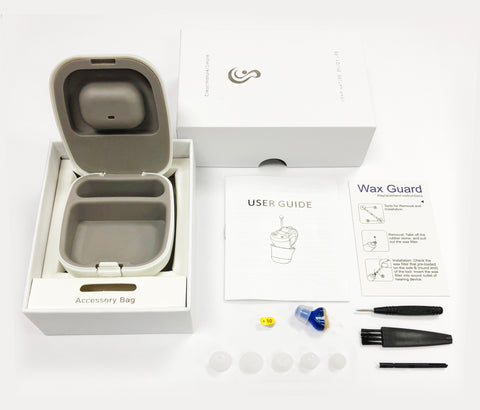 FAQ (Frequently Asked Questions):
Will the Kiperline work for me without being tested first?
With regards to size and sound output, the Kiperline X1 ITC Hearing Aids are fully adjustable to meet your specific needs. We've got thens of thousands of customers who had this same question before, but now they're all proud Kiperline wearers.
Is this suitable for my ears?
The X1 ITC is a 'one size fits all' hearing device that sits snugly in the average adult sized ear canal. If you experience discomfort or unwanted feedback, it comes with a number of different silicone fitting tips for an improved fit.
What if it doesn't work for me?
Don't worry! We offer a 30-day return policy. Simply return the hearing aids within 30 days of receiving your purchase and we will send you a 100% refund once received. No muss, no fuss.
Do these hearing aids whistle?
Any device in which a speaker and microphone are close together may produce a "whistling" sound. However, you can minimize or completely eliminate this with the following steps:
- Choose a slightly larger earplug that fits the entire ear.
- Put the hearing aid in your ear before turning it on.
- When turned on, start at the lowest volume, then slowly increase it as needed.
How to maintain such a low price without sacrificing quality?
We cut off the middleman, no doctor's salary, no brick and mortar rent, etc, that saves a LOT of money. We use our new cutting-edge digital technology to make our hearing equipment, which is much cheaper than making traditional hearing equipment. Plus, we manufacture these with new cutting-edge technology which is more affordable than traditional hearing aids.
10000+ Customer Testimonials from Facebook is our best witness.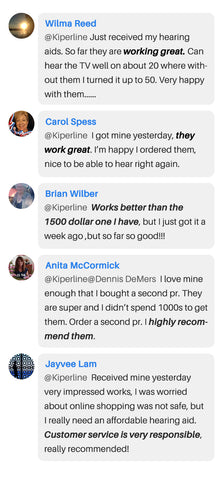 SHIPPING
Orders are processed and dispatched within 2 days.  
Shipping Time
US: 6-14 days
CA: 8-13 days
UK: 6-9 days
DE: 6-8 days
FR: 6-8 days
AU: 7-13 days
Rest of the World: 20-25 days
QUALITY GUARANTEE
We truly believe we make some of the most High Quality Cost Effective Products around and we want to make sure we stand by our risk free 30 days money back guarantee.
If you don't have a 100% positive experience while shopping with us, we will always try to make things right with our Customer Satisfaction Guarantee. If any issues arise, we are just a click away. Get in touch!
Share