Kiperline - Kiperline X3 ITC Hearing Aid
Regular price
$245.99 USD
Regular price
Sale price
$245.99 USD
Unit price
per
Sale
Sold out
Do you ...
Struggle to hear conversations in restaurants?
Wish you could hear your TV and music better?
Have a hard time hearing your friends and family?
Transform your life with one tiny hearing device that uses advanced technology to give you your sense of hearing back.
The Kiperline X3 ITC Hearing Aid is suitable for mild-to-severe hearing loss (hearing loss of 20 to 110 decibels).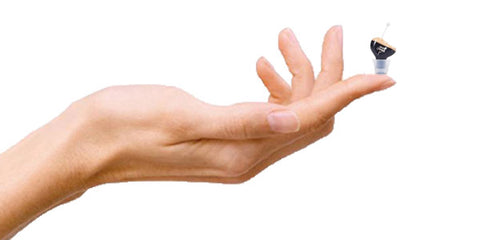 Each Kiperline X3 ITC hearing device:
Discreet. Fits snugly in the ear canal, nearly invisible to passers-by.
Suitable for mild to severe hearing loss. Don't let the small size fool you. The Kiperline X3 ITC Hearing Aids are very powerful.
Noise Reduction, Automatically recognizes ambient surroundings and isolates sounds like speech, music, and TV.
Built-in Tinnitus masker (helps reduce ringing noise!).
'One size fits all' design. 0.7 x 0.47 inches (1.8cm x 1.2cm) size fits comfortably in the average adult sized ear canal.
Economical choice. Peerless performance from low-power digital chips provides quality sound fidelity at a fraction of the price.
Each Kiperline X3 comes with:
1 x Protective Carry Case;
1 x A10 Battery*;
1 x Cleaning Brush;
5 x Silicone Ear Domes (small, medium, large);
1 x User Guide;
12 months repairs & replacement warranty;
30 day risk-free money back guarantee.
*A10 batteries are widely available in supermarkets and convenience stores.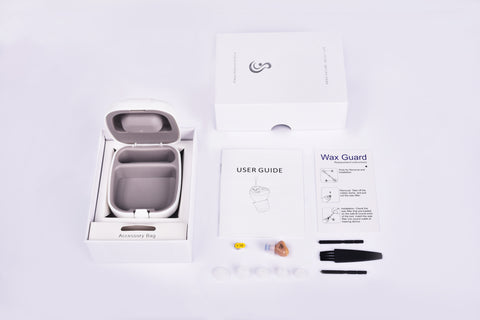 FAQ (Frequently Asked Questions):
Will the Kiperline work for me without being tested first?
With regards to size and sound output, the Kiperline X1 ITC Hearing Aids are fully adjustable to meet your specific needs. We've got thens of thousands of customers who had this same question before, but now they're all proud Kiperline wearers.
Is this suitable for my ears?
The X1 ITC is a 'one size fits all' hearing device that sits snugly in the average adult sized ear canal. If you experience discomfort or unwanted feedback, it comes with a number of different silicone fitting tips for an improved fit.
What if it doesn't work for me?
Don't worry! We offer a 30-day return policy. Simply return the hearing aids within 30 days of receiving your purchase and we will send you a 100% refund once received. No muss, no fuss.
Do these hearing aids whistle?
Any device in which a speaker and microphone are close together may produce a "whistling" sound. However, you can minimize or completely eliminate this with the following steps:
- Choose a slightly larger earplug that fits the entire ear.
- Put the hearing aid in your ear before turning it on.
- When turned on, start at the lowest volume, then slowly increase it as needed.
How to maintain such a low price without sacrificing quality?
We cut off the middleman, no doctor's salary, no brick and mortar rent, etc, that saves a LOT of money. We use our new cutting-edge digital technology to make our hearing equipment, which is much cheaper than making traditional hearing equipment. Plus, we manufacture these with new cutting-edge technology which is more affordable than traditional hearing aids.
SHIPPING
Orders are processed and dispatched within 3 days.  
Shipping Time
US: 6-14 days
CA: 8-13 days
UK: 6-9 days
DE: 6-8 days
FR: 6-8 days
AU: 7-13 days
Rest of the World: 20-25 days
QUALITY GUARANTEE
We truly believe we make some of the most High Quality Cost Effective Products around and we want to make sure we stand by our risk free 30 days money back guarantee.
If you don't have a 100% positive experience while shopping with us, we will always try to make things right with our Customer Satisfaction Guarantee. If any issues arise, we are just a click away. Get in touch!
Share